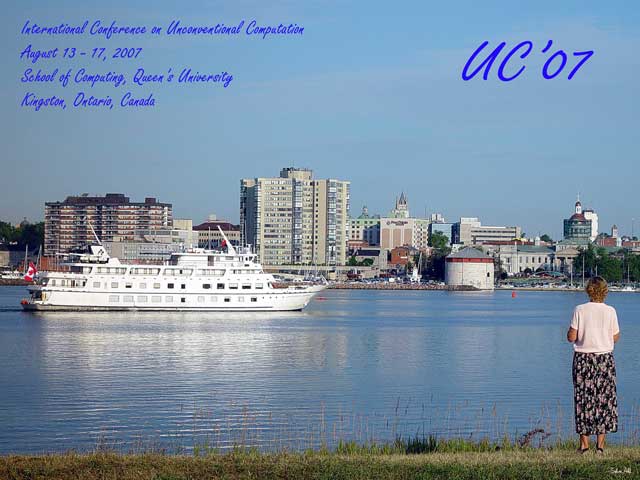 Poster © Selim G. Akl 2006
Organised by the School of Computing, Queen's University and CDMTCS, The University of Auckland
13th-17th August 2007, Kingston, Ontario, Canada
Conference Chair: Selim G. Akl, School of Computing, Queen's University
Conference Proceedings LNCS 4618 is now available online at:
http://www.springeronline.com/978-3-540-73553-3
or access the online version at:
http://www.springerlink.com/content/978-3-540-73553-3/
UC'07 is the 6th Conference in the Series Unconventional Computation.


The conference will consist of four keynote addresses and regular paper presentations in all areas of unconventional computation, reporting on theoretical results, experiments and applications. Typical, but not exclusive, topics are: natural computing including quantum, cellular, molecular, neural and evolutionary computing; chaos and dynamical systems based computing; and various proposals for computations that go beyond the Turing model.
In addition, there will be two workshops, on Language Theory in Biocomputing, and Unconventional Computational Problems, respectively. As well, two tutorials will be offered on Quantum Information Processing and Wireless Ad hoc and Sensor Networks.
Conference History


The first venue of the Unconventional Computation Conference (formerly called Unconventional Models of Computation) was Auckland, New Zealand in 1998; subsequent sites of the conference were Brussels, Belgium in 2000, Kobe, Japan in 2002, Sevilla, Spain in 2005, and York, U.K. in 2006. By coming to Kingston in 2007, the International Conference on Unconventional Computation makes its debut in the Americas. Please join us for what promises to be an exciting and productive event.
Conference Location


Kingston was founded in 1673 where Lake Ontario runs into the St Lawrence River, and served as Canada's first capital. Renowned as the fresh-water capital of North America, Kingston is a major port to cruise the famous Thousand Islands. The `Limestone City' has developed a thriving artistic and entertainment life and hosts several festivals each year. Other points of interest include Fort Henry, a 19th century British military fortress, as well as seventeen museums that showcase everything from woodworking to military and technological advances.
All conference events take place at the Four Points Hotel in downtown Kingston.
Many Thanks to Our Sponsors